Adults & Teens (age 15 & up)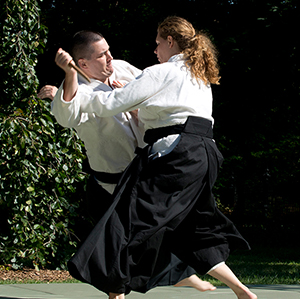 There are many aspects to Aikido training, and adult classes include them all. Basic training in movement, posture, balance, rolling and falling, and beginning throwing arts are just a start. Further training includes sword and staff, randori/free-style practice, advanced throwing arts, multiple attackers, and precision forms called Taigi. Meditative practices also are a part of many classes.

Aikido was mistakenly thought by some original teachers to be an adult art that was too sophisticated for children. However, it does take a mature mind to fully grasp and appreciate the importance of the basic concepts of Aikido. Honestly attempting to put these concepts into play in complex situations is very challenging. Developing the ability to let go of tension and preconceived notions, to see the larger perspective in any situation, this does require a high level of refinement. This is what is needed to make Aikido the elegant, simple and powerfully effective martial art that it can be.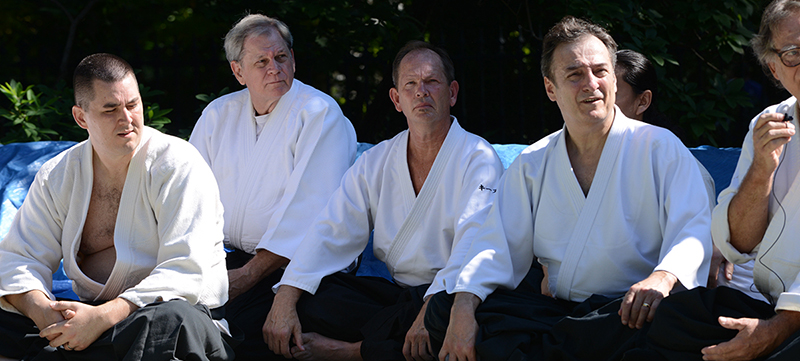 Adults of all ages enjoy the practice of Aikido. It may be easier to start as a younger adult; especially given the mistakes that are sometimes made. However, many individuals in their 50's and even several in their 60's have successfully started training in Aikido. A positive attitude is more important than physical ability. Classes are structured to allow students to practice in a way that is appropriate for their own level and abilities. Training is physically challenging, but not harsh.

Most people train two or three times a week. It takes a little more perseverance, but some adults train once a week. You can look at the Locations, Times & Fees section to see the options for training.

Teens age 15 and up may train in classes with adults. Younger teens also have the option to train in the youth classes if they choose.