Our Kids Fun Program at Saint Louis Ki Aikido
A core focus of our mission is to provide training for children. In our kids classes, both child and parent can learn the fundamental principles and techniques of Ki Aikido.

The Ki Aikido class is a unique opportunity for both parents and children to play together, stretch and develop techniques and strategies that strengthen their bodies and their relationships, both on and off the mat. In a much broader sense, the goal of Ki Aikido is to unify mind and body, with mindfullness harmonize and improve our awareness of and connection with both ourselves and the world around us.

We want kids to have fun in a safe, constructive environment. Get in shape. Build confidence. Improve focus. Enhance personal safety. Fall down … and get back up! Sweat, Smile & Laugh!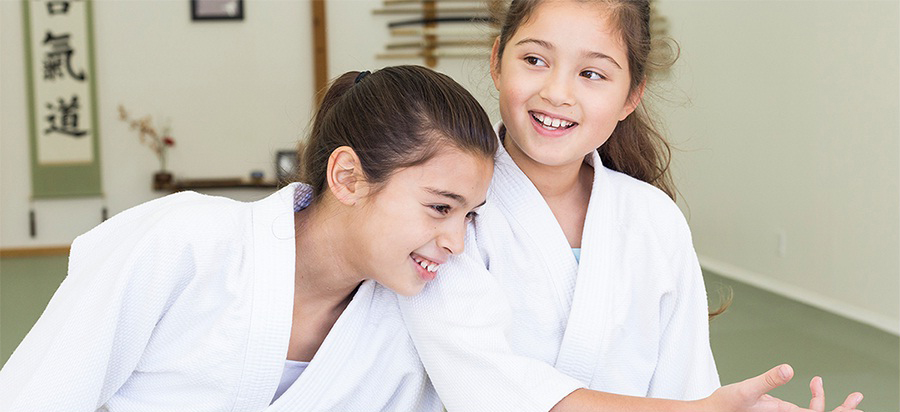 What your child will do:
Stretching
Rolling
Ki Aikido self-defense techniques
Ki Meditation & Ki Breathing techniques
with other children, moms, dads, and instructors
What your child will get:
Relaxation & Awareness
Patience & Confidence
Strength & Endurance
Flexibility & Balance
Increased Safety & Security
This Will Be FUN!
Children are often told to "calm down" and to "pay attention", but seldom shown how or why. We teach children how to calm down and show that calmness is a source of power. Paying attention is one way of doing what we call "extending Ki", which connects us with other people and the space around us. Learning calm attentiveness through specific exercises is the most basic training in Ki-Aikido. This practice improves children's ability to respond positively in all situations.
Students enjoy the movement, tumbling and rolling exercises taught in every class. They learn to enjoy cooperation and to have fun without competing. They develop greater trust in themselves and in others. A combination of work and play makes the practice truly "artful". Most classes are 50 or 60 minutes long. Changes in schedule may occur due to holidays and special events.
Classes are conducted in the most appropriate way for the students' age and experience. Students first learn the most basics, grow these skills and then develop techniques necessary for rank testing. Meditation and breathing exercises are used in training with students of all ages.
Summer Samurai
For Families, Friends, Schools, Community Centers and other Organizations. Summer Samurai is designed to be a 5-day program consisting of five 45 to 75 minute classes. The classes typically run from Monday through Friday. Each class builds on the material that was presented in previous classes. The children are taught the basics of Aikido. This includes basic movement and posture, rolling exercises, calmness and relaxation training, and one or two Aikido techniques. On Friday the participants learn movements with wooden practice swords and see some advanced Aikido.
Summer Samurai is appropriate for ages 6 and up. It is best if he age range of the participants span no more than 4-7 years. This allows the training to be adjusted to the developmental level of the children. Because of safety concerns when working with wooden practice swords, children who are judged by the instructor as too undisciplined will not be allowed to participate in the Friday class. However, this is rarely a problem. Contact Keith Thorn for more information at KeithThorn@STLKI.org