Start training now and receive plenty of help from other students as well as instructors!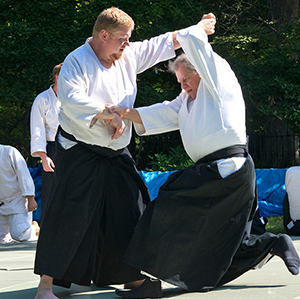 Aikido training for adults and teens (15 & up) Click HERE for a PDF Registration form that can be filled out on your computer and submitted by email.
In over 43 years, thousands of people have trained with St. Louis Ki Aikido, and so can you. Starting aikido training can be a bit intimidating. But, there is plenty of help from the other students as well as the teachers.
Watch a Class

For most people it's a new situation with new people in an unfamiliar place. There is a sort of "culture" of Aikido training that is very new to many people. Even the clothing that most people wear (martial arts uniforms) is strange. It's not surprising that some people come to visit 3 or 4 times before starting



Everyone is invited to take a free class and feel what it is like
Come into most any regular class the first week of any month
Free introductory Aikido classes are offered monthly


We have 5-Day introductory courses every few months. This allows you to get a better taste of the training than one class can provide. You can register online, pay online, and or mail in your payment. Or you may make payment when you come to the first class. It's best to arrive about 15 to 20 minutes before class starts.
Just Do It
Come in, take advantage of the special 3 month new student tuition, and start training regularly. This is actually what most people do. Jump in and make practice a habit. By the end of your initial 3-month period, you'll know enough to be really confused and wonder if you're getting anywhere. But you'll be able to do quite a number of things that you couldn't do when you first walked through the door. In fact, by the end of the first three months of regular practice, you'll be nearly ready to take the first test for rank!
What to Wear and other odds & ends

You'll want to wear loose comfortable, clean clothes that are easy to move around in. Sweat pants and T-shirts work well. Gi's (martial arts uniforms) are available for sale to students at the main school. Gi's are very practical, but not mandatory. The training is usually done barefoot on our beginner friendly and mistake-forgiving matted training surface. There is just one form to fill out before your first class, but it's best to arrive at least 15 minutes before the start time. Your payment (unless you're taking a free intro) should be made at this time too. Or, you can come visit during class times and take care of this before your first class.