LOCATION TIME & FEES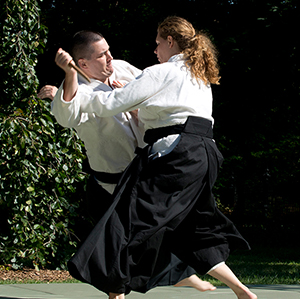 The St. Louis Ki Aikido Main Dojo (school) is located just North of Forest Park and just East of Washington University campus at 6006 Pershing Avenue on the west edge of the City of Saint Louis, between Pershing Avenue and Forest Park Parkway at Des Peres Avenue. We have conducted classes at this location since 1979. The school has comfortable amenities in an historic building more than 100 years old.

There is a 900 square foot permanently matted training area that is excellent for beginners and advanced students. Men's and women's dressing areas with showers are on the lower level. What makes this place special is that it is entirely devoted to the study of Aikido, Mind/Body Oneness and the teachings of Ki Aikido. A sense of place and tradition serves to enhance the training. It is a focal point for all St Louis Ki Aikido activities in the area.

Adult Aikido Class
(open to all levels unless otherwise specified)
WEDNESDAYS
6:30 to 8pm



SATURDAYS
10am -11:30


All classes above are for all adult Aikido students, including beginners.
Special classes are held for test preparation and black belt training not listed here.

Next Kids Aikido Class Schedule: TBD
Dynamic Meditation Class Schedule
Free for SLKA aikido students (paying tuition) and $30 per month for members who donít pay aikido tuition. Non-members cannot participate in any SLKA classes (with exceptions for intro classes and those temporarily paying mat fees)