Tempu Nakamura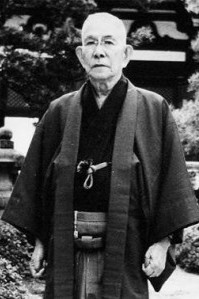 Founder of Shin Shin Toitsu Do; The Way of Mind and Body Unification, also known as Japanese Yoga. Tempu Nakamura was born on July 20, 1876 in Tokyo, Japan. He was a martial artist who created the art Shin Shin Toitsu Do, from Japanese martial arts and meditation practices, as well as Western medicine, psychotherapy and unique versions of Raja Yoga and Karma Yoga, which he learned from his teacher of Yoga and meditation called Kaliapa in Kangchenjunga, in the Himalayas. Nakamura Sensei is often regarded as the father of yoga in Japan. He died on December 1,1968.


Nakamura Sensei trained Judo, Kenjutsu and Iaijutsu. At the age of 16, he joined the Imperial Japanese Army and served as a covert agent in Northern China. He was one of only nine out of 113 military affairs investigators to return to Japan alive from the Russo-Japanese War, after which he suffered a severe attack of tuberculosis at the age of 30.


Seeking a cure for his disease and to arrive at peace of mind, he began reading about medicine, religion, philosophy, and psychology. at the age of 33 traveled to the USA to seek advice and medical treatment, rather than waiting to die, there his illness went in to remission, impressed by these treatments, he entered Columbia University, where he studied medicine. His illness returned, prompting him to look for a psychosomatic cure, he traveled to England, Germany, Belgium and France for a period of time seeking in to psychology, biology and philosophy. Afterwards Nakamura Sensei lived in India, where he studied the art of Raja Yoga, the Yoga of meditation. Where he experienced spiritual realization and awakened his higher mind, after two years and several months of practice his tuberculosis disappeared.


At 43 years old after returning to Japan, He founded his own art called Shinshin Toitsu Do, the Way of Mind and Body Unification, where he blended Indian meditation and health improvement with his background in medicine, psychology, Japanese healing arts and meditation, and Japanese martial arts. He taught for many years in Japan, authored best-selling books, and counted among his students a large number of Japanís top executives, politicians, fine artists, athletes, martial artists, and people from every walk of life. Nakamura Sensei taught Shin Shin Toitsu Do to Koichi Tohei Sensei, who later founded Shinshin Toitsu Aikido, Aikido with Mind and Body Unified.