The Spirit of Aikido Budo – Harmony
Aikido is a traditional, non-competitive, Japanese martial art meaning "the way of harmony with universal energy (ki, prana, chi)." Shin Shin Toitsu Aikido, meaning "mind-body-unified"
Aikido explores the state of mind-body union through graceful, dynamic self-defense movements. Instead of responding to conflict with muscular force, Ki Aikidoka use ki and respect the training partner's energy.
By flowing with it and converting the attack into a roll or a pin, the practice results in a positive, invigorating experience for both participants. Ki Aikido is beneficial for everyone regardless of size, age, gender or physical ability.
It may be easiest to explain Ki Aikido as a form of personal development
Aikido practitioners observe their everyday lives are deeply enriched by the calmness and inner strength developed through the practice of Aikido.
Going beyond the advantage of learning to defend yourself, Ki Aikido helps you function more positively in your everyday world, to build confidence, raise your level of physical fitness, as well as safely handle conflicts and other difficult situations.
Aikido comes from the same martial lineage as judo and jujitsu. It emphasizes blending with attacks rather than countering force with force, and utilizes throws, joint locks, and pins. The goal of aikido is to neutralize aggression swiftly without undue harm to the attacker.
The more we practice, handling confrontations becomes second nature. By embodying the principles of Ki Aikido in daily life, we lessen the need for the physical combat skills of Aikido outside the dojo. The diligent, consistent study of Ki Aikido leads to a mindful, confident, and spirited way of life.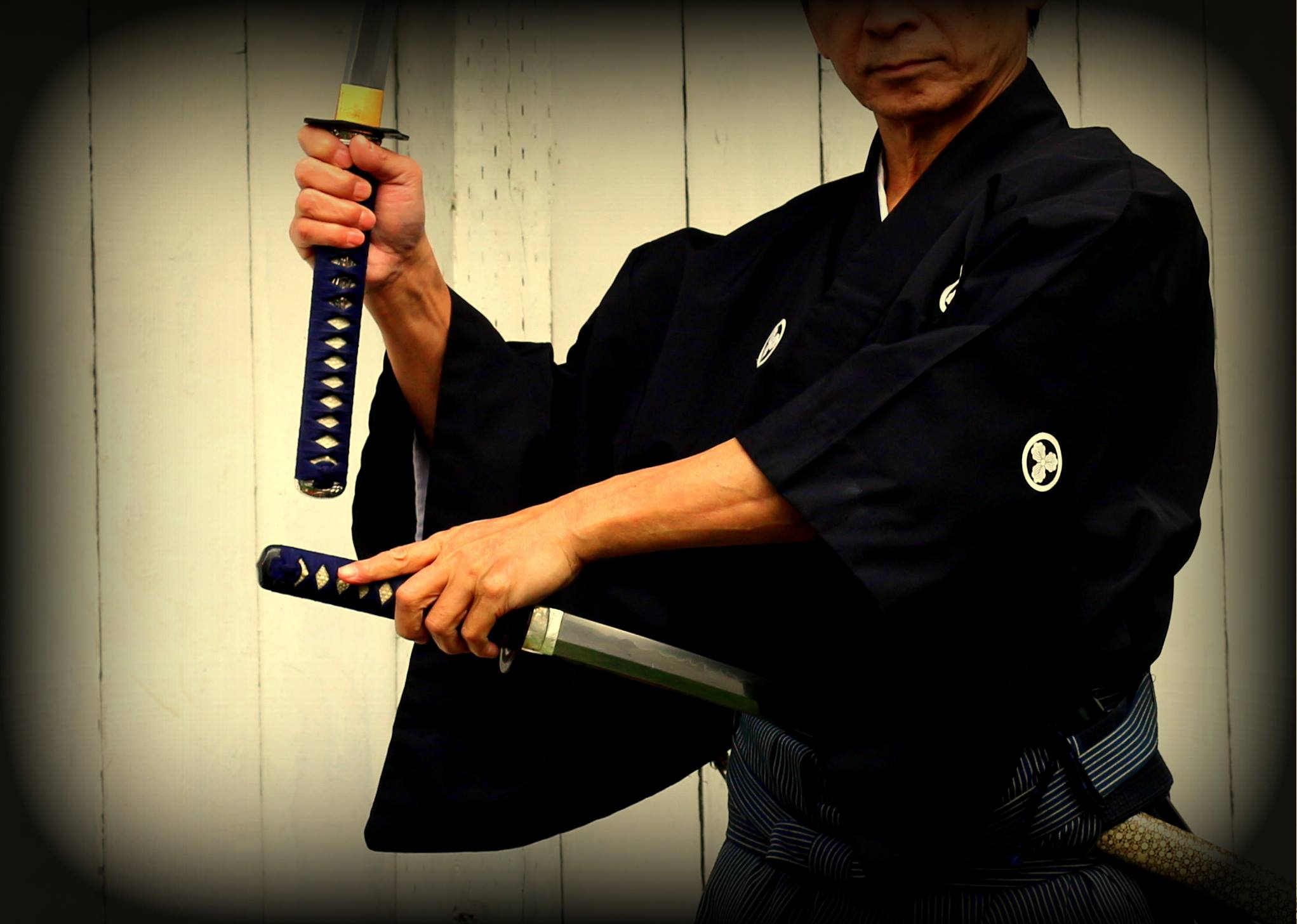 Dear St Louis Ki Aikido Friends,


Please use the yellow Donate button below for all Donations and Payments - including Start-Up Tuition, Monthly Training Fees, Aikido Ki Rank Fees, Aikido Kyu / Don Rank Fees, Annual Ki Society Fees, Annual Membership Fees, and more!
Please also add an additional 3% to cover the fees taken via processing these payments through PayPal®
Thank You!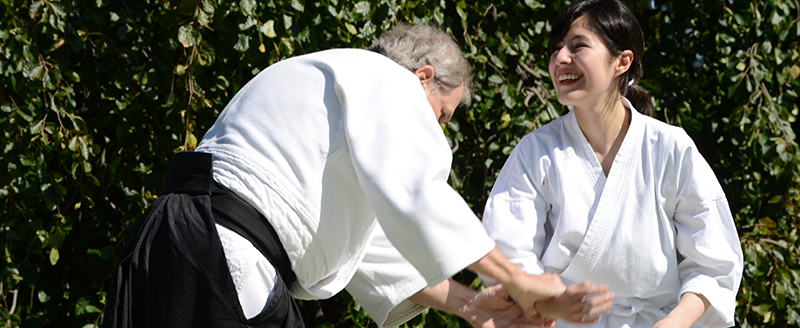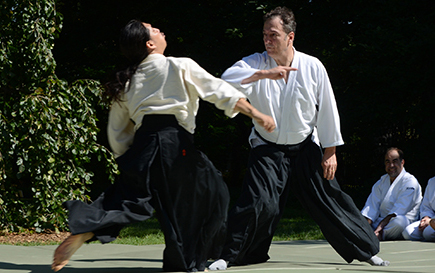 NEWS Celebrating 43 Years St Louis Ki Aikido


STLKI Covid 19 Policy:
Aikido requires direct contact between students and instructors in a confined space. As such, vaccinations and masks will be recommended but not required by St. Louis Ki Aikido. This policy may be updated as CDC and governmental guidelines evolve. Thank you.


Sundays (10:00 – 11:30am) Ki-Aikido
A full ki-aikido class, including full-contact Ki-Aikido, kumi waza, and weapons.
Between April 3rd - May 29, classes will be held in Forest Park*
Sunday April 3 (12:noon – 1:30pm)
Special Advanced Ki-Aikido
A full ki-aikido class, including full-contact Ki-Aikido, kumi waza, and weapons for 2nd Kyu and above ranks*
Mondays (6:30 – 8:30 pm)
Dynamic Meditation + Ki-Aikido
Focus on principles of Dynamic mediation and Ki Development of mind and body coordination interwoven with a full Ki-Aikido class, including full-contact Ki-Aikido, kumi waza, and weapons.
Wednesdays (6:30 – 8:00pm) Ki-Aikido
A full ki-aikido class, including full-contact Ki-Aikido, kumi waza, and weapons.
Saturdays (10:00 – 11:30am) Ki-Aikido
A full ki-aikido class, including full-contact Ki-Aikido, kumi waza, and weapons.
*SIGN-UP TODAY FOR KI-AIKIDO 5 WEEK INTRO SESSION STARTING SATURDAYS APRIL 9*
(12:00 – 1:30pm)
April 9th and continuing through May 7th. Learn the basics, step by step...
all for just $50!
*Sign up today via email to the Head Instructor at
rickblanke@stlki.org
*By registering for the Intro Classes, you can also attend all regularly scheduled classes with existing students during the course of the 5 weeks without any additional fees.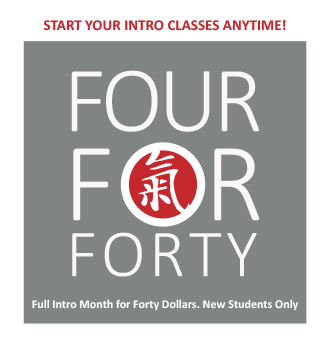 ST LOUIS KI AIKIDO
is a 501(c)3 nonprofit educational organization. We seek to improve the mental and martial ability of individuals to respond to stress and conflict positively and creatively, with powerful calmness and relaxation.
SPECIAL VIDEOS
Koichi Tohei 10th Dan - Rare Aikido Demonstration
Tohei Sensei and Hagihara Sensei: New Jersey 1965
Kashiwaya Sensei-8th Dan Ki Aikido
Ki Aikido Super Randori
Kashiwaya Sensei Demonstration
Kashiwaya Sensei, Jo Kata Improvision
Kashiwaya Sensei, The Powerof Ki
Kashiwaya Sensei, 2018 Instructors Intensive



AIKIDO ARTICLES
Aikido Turns Conflict On Its Head
Samurai Secret, Always Being At Your Best
Ki Aikido, A Solution to Stress



SOCIAL MEDIA
Like Us at St Louis Ki Aikido Facebook Page


Did you know that you can shop on Amazon and donate to the dojo at the same time? If you go to smile.amazon.com and choose St. Louis Ki Aikido, the dojo will receive .5% of the purchase as a donation for your purchases on Amazon. You don't have to do anything special other than shop like normal.