The Spirit of Aikido Budo – Harmony
Aikido is a traditional, non-competitive, Japanese martial art meaning "the way of harmony with universal energy (ki, prana, chi)." Shin Shin Toitsu Aikido, meaning "mind-body-unified"

Aikido explores the state of mind-body union through graceful, dynamic self-defense movements. Instead of responding to conflict with muscular force, Ki Aikidoka use ki and respect the training partner's energy.

By flowing with it and converting the attack into a roll or a pin, the practice results in a positive, invigorating experience for both participants. Ki Aikido is beneficial for everyone regardless of size, age, gender or physical ability.
It may be easiest to explain Ki Aikido as a form of personal development
Aikido practitioners observe their everyday lives are deeply enriched by the calmness and inner strength developed through the practice of Aikido.
Going beyond the advantage of learning to defend yourself, Ki Aikido helps you function more positively in your everyday world, to build confidence, raise your level of physical fitness, as well as safely handle conflicts and other difficult situations.
The more we practice, handling confrontations becomes second nature. By embodying the principles of Ki Aikido in daily life, we lessen the need for the physical combat skills of Aikido outside the dojo. The diligent, consistent study of Ki Aikido leads to a mindful, confident, and spirited way of life.
Dear STLKI Aikido Friend,
Please use this link to both DONATE and Make PAYMENTS such as Monthly Fees and Testing Fees
Please also add 3% to cover the fees taken via processing payments through PayPal®
Thank You!

NEWS St. Louis Ki Aikido is offering online classes and meditation sessions to our current members to help maintain your training while helping to keep everyone safe and healthy. If you are interested in joining these classes, please contact rickblanke@stlki.org for more information. Our in-person aikido classes remain suspended in order to help limit the spread of COVID-19.

We are monitoring the advice offered by the CDC and St. Louis City Department of Health, and will restart in-person classes when we can do so in a way that is consistent with our curriculum and meets social distancing guidelines.



ST LOUIS KI AIKIDO is a 501(c)3 nonprofit educational organization. We seek to improve the ability of individuals to respond to stress and conflict positively and creatively, with powerful calmness and relaxation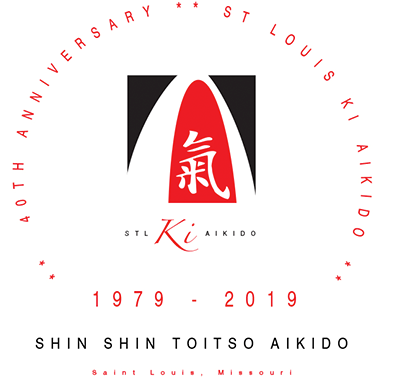 SPECIAL VIDEOS
Koichi Tohei 10th Dan - Rare Aikido Demonstration
Tohei Sensei and Hagihara Sensei: New Jersey 1965
Kashiwaya Sensei-8th Dan Ki Aikido
Ki Aikido Super Randori
Kashiwaya Sensei Demonstration
Kashiwaya Sensei, Jo Kata Improvision
Kashiwaya Sensei, The Powerof Ki
Kashiwaya Sensei, 2018 Instructors Intensive



AIKIDO ARTICLES
Aikido Turns Conflict On Its Head
Samurai Secret, Always Being At Your Best
Ki Aikido, A Solution to Stress



SOCIAL MEDIA
Like Us at St Louis Ki Aikido Facebook Page



Did you know that you can shop on Amazon and donate to the dojo at the same time? If you go to smile.amazon.com and choose St. Louis Ki, the dojo will receive .5% of the purchase as a donation for your purchases on Amazon. You don't have to do anything special other than shop like normal.